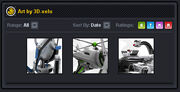 The
Art Portal
on Newgrounds is a section which was added to the animation site in 2009 for uploading quality art. It does not have a blam/protect system, but relies on selection by other artists who have already been scouted for the Art Portal. Users can vote on submissions, although this does not add to their Experience. Users can favorite both Artists and Art subs and they can Review submissions. The unique bot for the Art Portal is
I-BOT
.
Submitting Art
Edit
All registered Users can upload art through the Art Portal Page, which is shown on their own User Page. It is not shown on the Art Portal unless Scouted by other users.
Being Scouted for the Art Portal
Edit
An artist can only be scouted once they have submitted four or more art submissions, which are displayed on their User Page. Even once scouted, artists can have their Portal status revoked, by an Art moderator, if the quality of their work declines.
Scouting for the Portal
Edit
All scouted users can Scout art they find on someone's user page, which is their personal recommendation of that art for the Portal. If a scouted artist is considered to scout too much poor art or rule-breaking art, they risk losing thier ability to scout (which is called being 'castrated').
History Of the Art Portal
Edit
Many Newgrounds Users have always had an interest in art. Occasionally, a submission to the Flash Portal was, in fact, an art still and various threads have been used to display and work on art over the years before the team finally decided to create the Art Portal. Rob created the Art Portal and it went online in 2009.
Ornery's Guide to Art Scouting
Community content is available under
CC-BY-SA
unless otherwise noted.