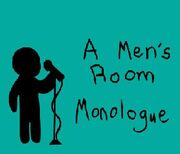 "A Men's Room Monologue"
Author:

PokeGravy

Audio used:
N/A
Origin:
04/20/2005
Size:
2.4 MB
Score(As of 28 July, 2010):
4.31/5.00
Awards:
Daily Feature

Weekly 2nd Place

Author's comments:
Since its launch, "Men's Room Monologue" has been a viral sensation online. Completed as a freshman project for RIT, it has entertained over a 1,000,000 people online with its observations about the public bathroom experience. The animation may be crude, but this cartoon still rings true.
Note
This information only refers to the official release on the Flash Portal.
A Men's Room Monologue is a Flash movie, made by Alex Salsberg, that focusses on the pros and cons of the boy's public bathroom. It won Daily 1st and Weekly 2nd; as of April 2010 it has over 1.9 Million views. There was a sequel to it called The Ladies' Room Monologues, but you can not see it on Newgrounds. You can see The Ladies' Room Monologues and Alex's website though. A Men's Room Monologue was rated +13 for crude humor and mild censorship.
Links
[
]