A-Bot is one of the six Newgrounds Bots that help Newgrounds with different assignments. Although they are simply bot programmes on the computer, each is given a persona, including a picture and a user page on Newgrounds, which lists their functions and may have messages from the bot. Each is characterized by having a different aura.

According to the FAQ, A-Bot "Sorts and ranks Audio files submitted to the Audio Portal, and picks and highlights weekly winners."
According to his Userpage: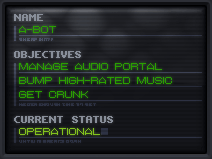 A-bot was created to manage the Audio portal in 2003. He writes with a hip-hop style and appears to hang out with Darnell from the Pico series.
A-BOT appears on the Audio Portal page as the big green robot, with massive speakers in his legs and his character appears to be great friends with Darnell.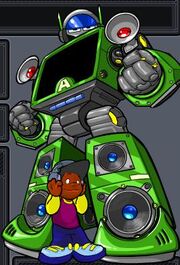 Community content is available under
CC-BY-SA
unless otherwise noted.