"! Fishy !"
Author:
XGen
Audio used:
N/A
Origin:
02/02/2003
Size:
334.4 KB
Score(As of August 2011):
4.11/5.00
Genre:
- Collect Skill - Collect
Awards:
Author's comments:
-

---

Visit www.XGenStudios.com for more games!

---

EAT smaller FISH. Don't get eaten by BIGGER fish.

Front page after so long... pure awesome. Thanks NG!!!

- Various visual improvements. - High Scores added - There is now a real ending :)

Note
This information only refers to the official release on the Flash Portal.

! Fishy ! is a flash game by XGen. It requires the player to grow their fish by eating other fish.
Gameplay
Edit
Fishy uses a fairly simple concept. The player controls a fish that must eat smaller fish while avoiding larger ones. As the player eats increasingly large and numerous fish, their fish grows, their score increases, and the total number of fish eaten, which is displayed in the top of the screen, increases. Since the player's fish is constantly growing, they can eat a wider variety of fish, but have a harder time evading larger fish. Movement is controlled using the arrow keys. When the player's fish is ultimately eaten, they may post their high score. The controls of the game didn't get much response on Xgen however.
Presentation
Edit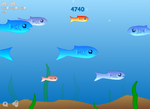 Fishy has the fairly minimal style of presentation often found in avoidance based games. All of the fish are recolored and rescaled versions of the same basic design, and all of the action takes place in a single area. There is no animation for a fish being eaten, and despite taking place underwater, there are no special effects such as ripples or bubbles. This keeps the action highly visible. A single short musical loop plays throughout the game, and several sound effects, including a wet burp that is heard whenever the player eats a fish, are also utilized.
Reception
Edit
Despite winning no awards, ! Fishy ! was a critical success on Newgrounds. As of August 2011, the game has over 3.9 million views and an average review of 8.7/10. After being featured on the front page, it was also included in the Puzzles and Flash Portal History collections.
Community content is available under
CC-BY-SA
unless otherwise noted.